Careers
Our Identity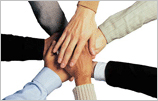 Netwin is a fast growing organization with expertise across diverse industry verticals and technology practices. Through the caring and nurturing culture that we have diligently created over the years, we ensure that our people gain a holistic experience at all levels. Our collaborative work environment drives every Netwin-ite to go beyond their defined roles and excel in their individual capacities. If you are looking for an energetic, challenging and rewarding environment, then Netwin is the place to be. To join us, send your resumes today.
Current Opportunities
Values are very fundamental to the way we work in Netwin. It is not merely articulated here but put in to practice day in and day out by our Employees. It defines the core of our existence. We believe that our strength lies in our people. We believe that people are our assets and it is people who will ensure our success. We are constantly searching for the best-in-class people from across the country. We are always looking for the 'best of laterals' to meet our ever-growing people requirements. We strive to find the best candidate for any given role. All our appointments, whether from internal or external sources, are made solely on the basis of individual suitability and merit.
You can talk with us: 0253-665 1510

You can opt for a diverse career choice by choosing any of the following:

Software Development
System Analysis
Quality Assurance
Sales
Project Management

Click here to send your resume